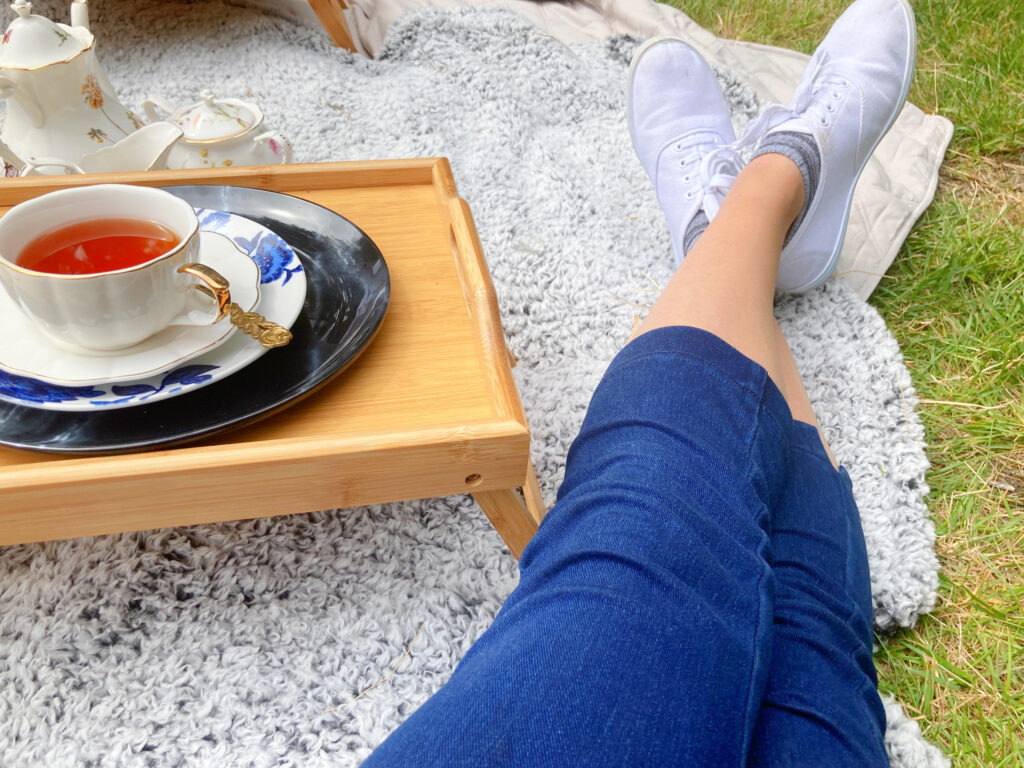 Sun-soaked afternoons are best spent in crisp linen keds, basking on a sheepskin throw in a wooded meadow, while stuffing your face with delicious picnic food… While I have hosted many whimsical tea parties at my shop, a leisure – yet glamourous – picnic tea party turned out to be the most memorable event by far.

Read on to learn how to style, organize, and execute a whimsical woodland tea party picnic!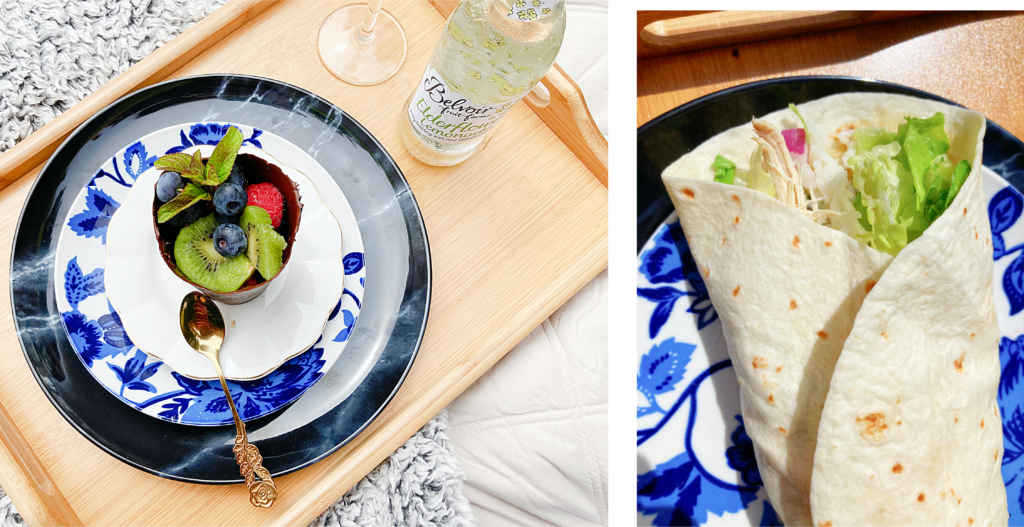 How do I take my tea? Very seriously apparently. I've learned: your menu determines the entire attitude of the event. Picnic food is traditionally un-fussy. Opt for goodies that are hardy and compact. You'll need foods that are not easily affected by temperature change. Limit yourself to selecting only one gourmet treat to be the main attraction. Stay away from clotted cream, mousse, and whipped cream. They will turn to soup.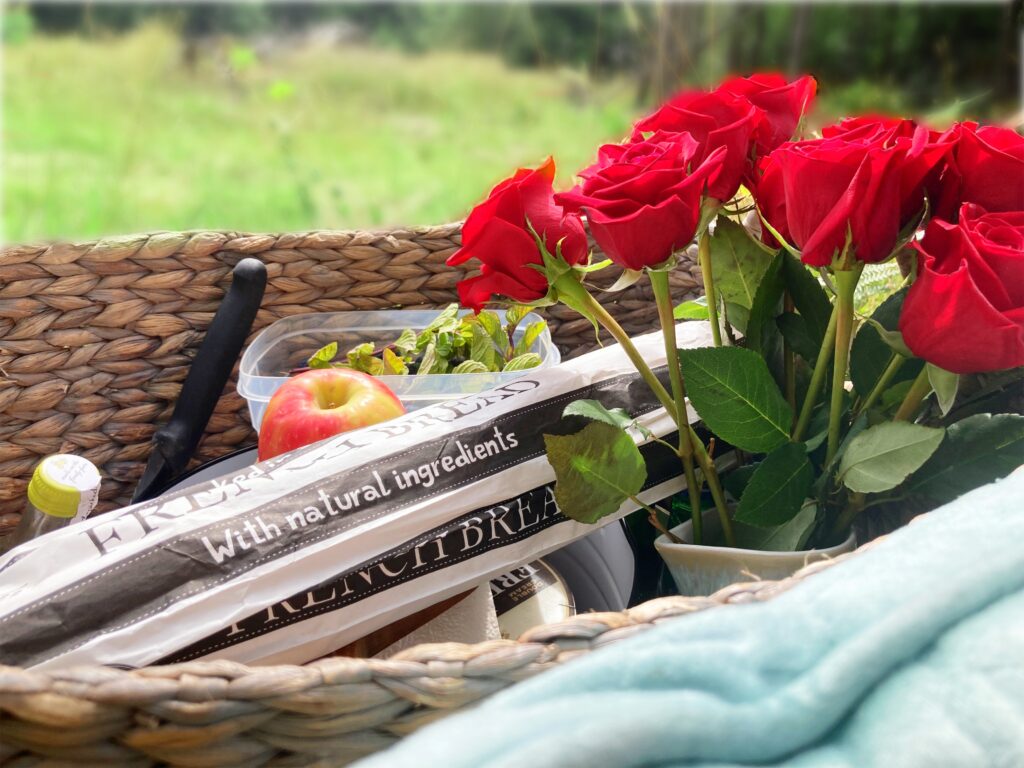 Suggested Menus
Baguette
served with goat cheese, cucumbers, blueberries & fresh mint
Chicken Cesar Wraps
with peppered salt and vinegar potato chips
Chocolate Cups
filled with cheesecake and berries
Elderflower Soda
Black Tea
---
Scones
served with marionberry jam, brie, and fresh thyme
Roast Beef Wraps
with honey mustard, arugula, and classic potato chips
Boston Cream Cupcakes
with coconut shavings
Lemon Rose Soda
Black tea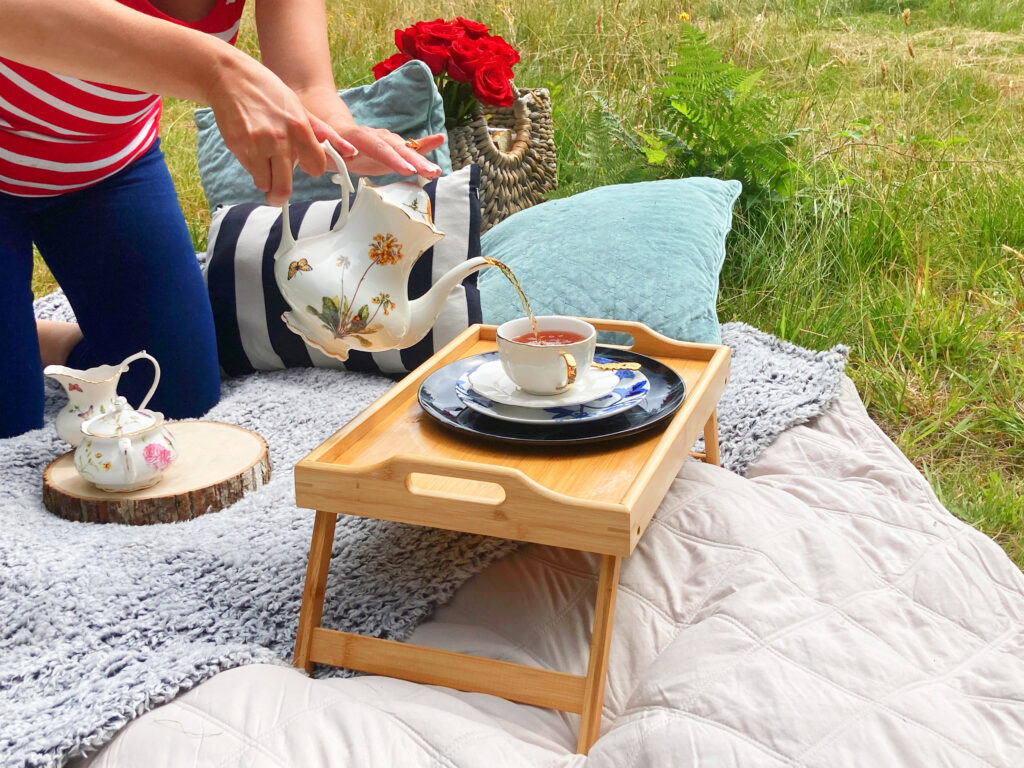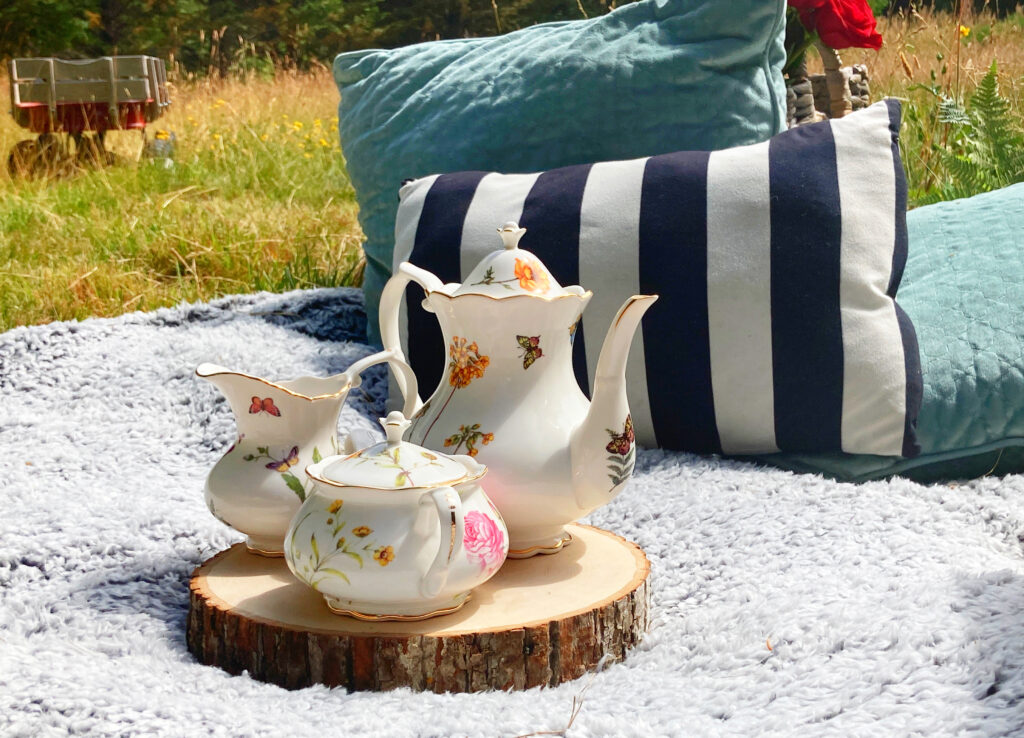 Do:
Use sugar cubes (loose sugar gets everywhere and attracts ants)
Bring folding tray tables
Have paper napkins and wet wipes
Mix and match tableware
Wear comfortable clothes
Have a garbage can or sack (keep the forest clean!)
Pre-make foods the evening or day before
Provide party favors (a small bottle of bubble mix, a potted plant, or a packet of wildflower seeds work nicely)
Remember to bring an umbrella!
Dont:
Bring a tiered pastry stand (they are prone to tipping, and isolate the food)
Leave food in the car
Bring dogs or pets (Pets and food are usually a chaotic combo, even the most well-behaved animal will still create problems like having to go to the bathroom, barking, whining, or begging.)
Have non-essential flatware
Use paper plates or plastic utensils
Start with tea (tea should ALWAYS be after lunch otherwise everyone will be getting up to use the bathroom mid picnic.)
Drink soda from the bottle (use a lovely champagne flute instead)
Finding the "perfect" tea party picnic spot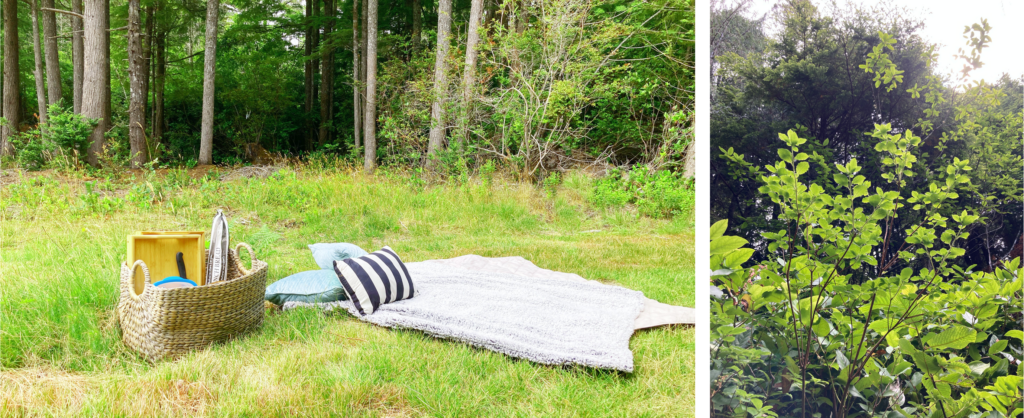 Scout out your location ahead of time. The ideal spot should be accessible by car and have an even surface. While a large sprawling field might seem like a traditionally good spot for a picnic, the wind is your enemy. By selecting a forest clearing or meadow you'll be protected from gusty breezes.
A picnic spot that is accessible by car significantly eases the burden of transporting your food and delicate teaware. I accepted early on that everything I wanted to bring was never going to fit inside a picnic basket. I ended up using an oversized laundry basket and a metal tub. Whatever you use make sure it's robust!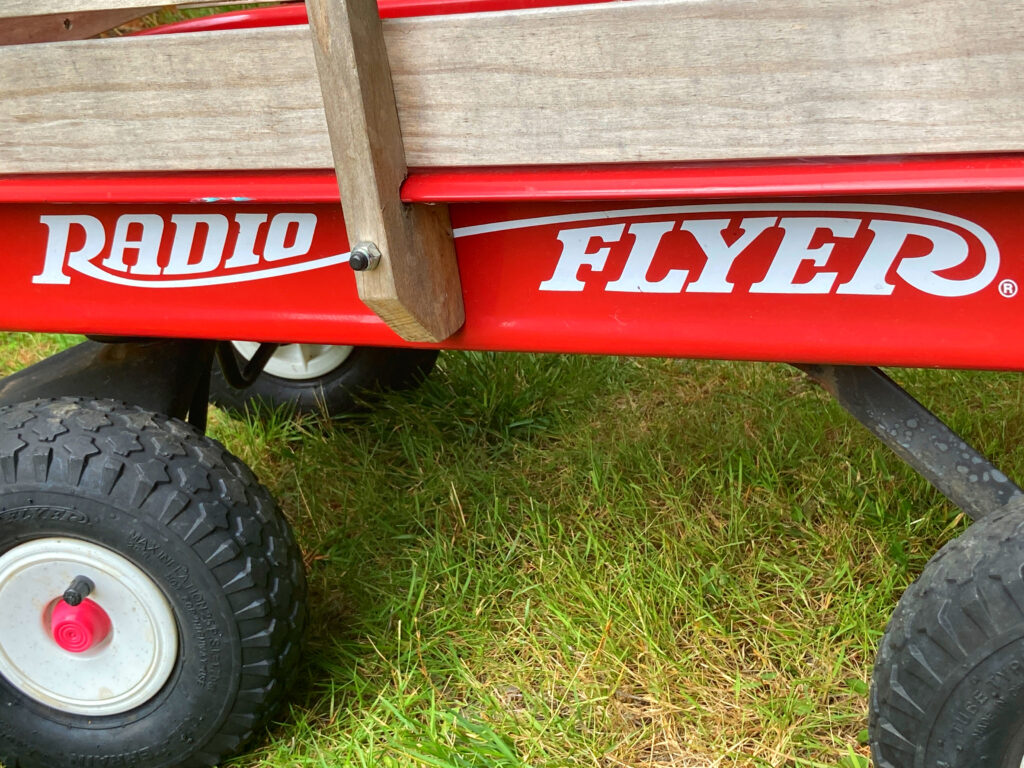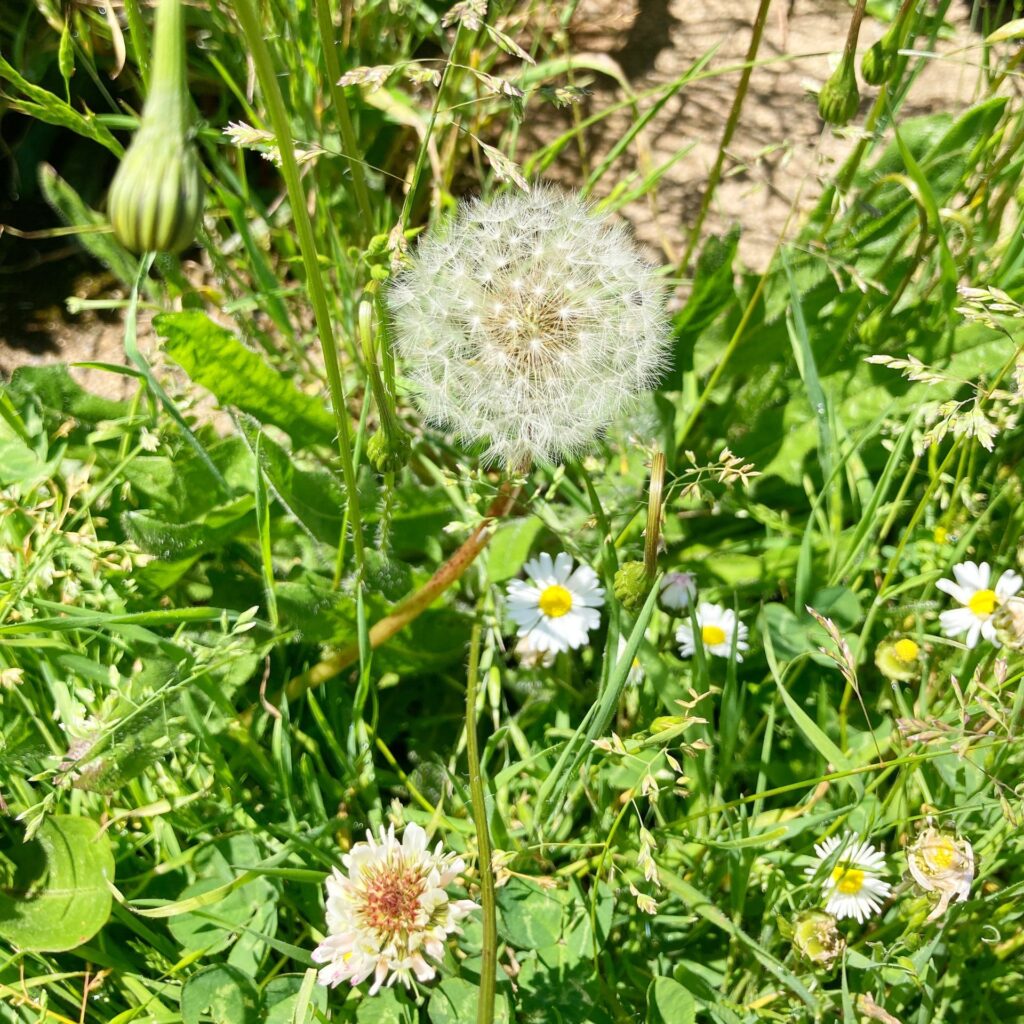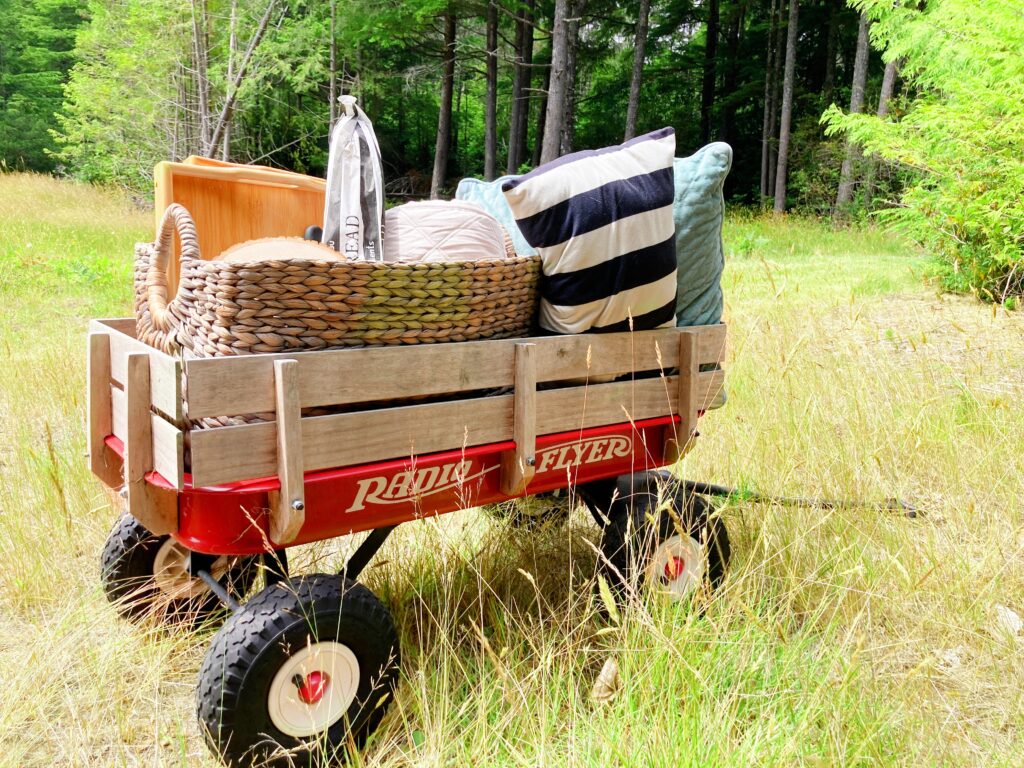 Even though my picnic area was accessible by car, I still decided to use a wagon. I'm so glad that I did because it made the chore of unloading take no time at all!
The most important element of a successful picnic is appropriate food storage. Vented Tupperware to the rescue! Admittedly, I got quite excited about the improvements made to Tupperware in recent years. Now with vented lids, the food doesn't sweat keeping your eats fresh and crisp.

The most overlooked aspect of a successful picnic is having hard surfaces to display food and teaware. Don't make this mistake. Prepare to create flat surfaces for food and tea landings. It's a recipe for disaster to set food and drinks directly on your picnic blankets. They will tip and they will spill. You can prevent this by using chunky cutting boards, serving tray tables, or rustic wood rounds to act as sturdy islands.
Selecting your teaware and tableware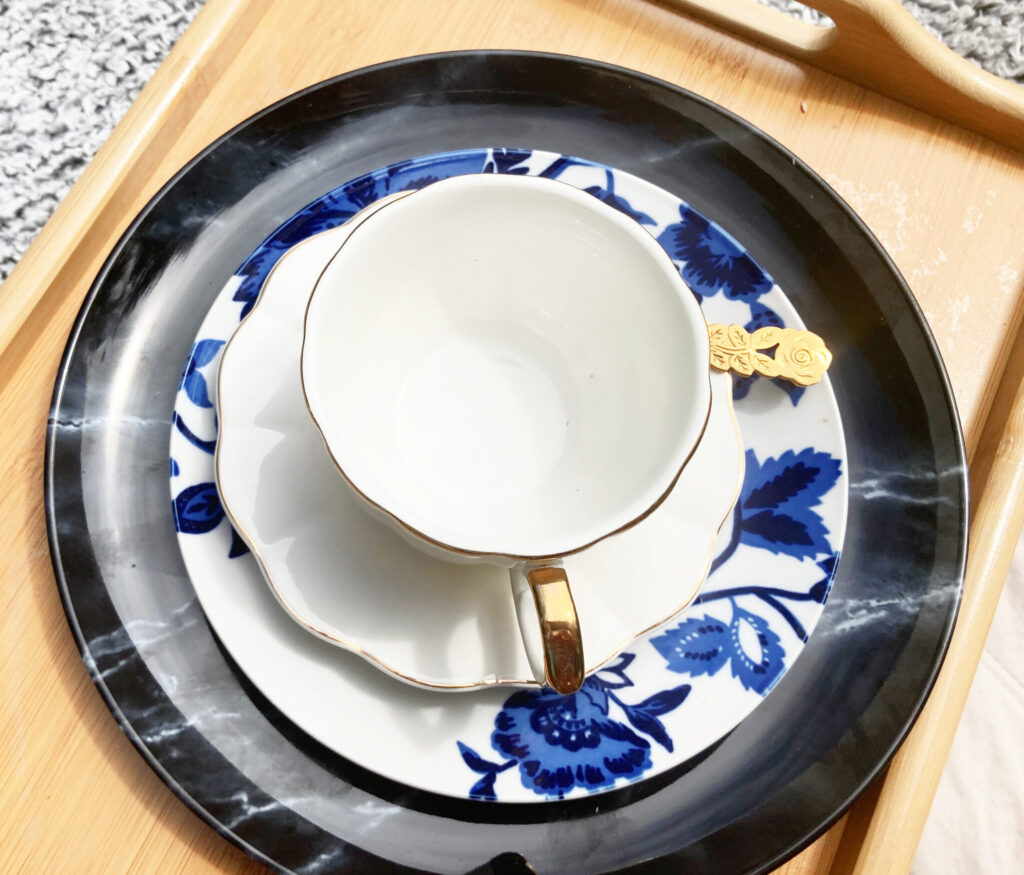 Style is essential. Your teaware and plates will completely set the tone of your tea party. Opt for plates that are non-breakable, melamine plates take all the stress out of transport. Don't worry if things don't match! A mixed-matched table setting looks breezy and effortless. Keep a small hint of a traditional picnic theme by choosing a bold pattern. Here are some suggestions:
Blankets & Pillows
A fine blanket is a luxury anyone can afford. Striking the right balance between practical and luxurious can be challenging. The truth is you really need two blankets that serve two different purposes. A heavy quilted or wool blanket (of a solid color) for padding and dew absorption. And you'll also need a "topper" blanket like a gorgeous ultra-soft throw for comfort and style.

Nothing says whimsical woodland tea party picnic like a pile of throw pillows. Stack on the pillows for a cozy snuggle spot. Remember that laying and sitting on the ground eventually stops feeling comfortable. Adding some plush, plump pillows will help keep the party going by providing extra cushioning and back support.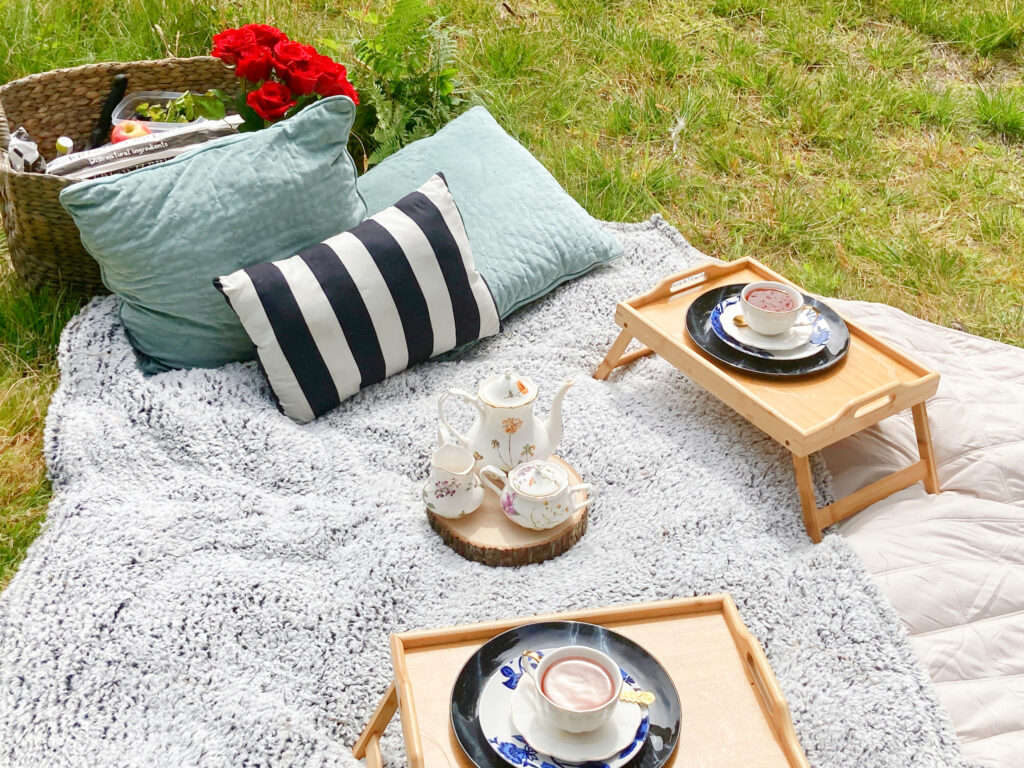 "Dés Vu" is a unique and beautiful word that means:

The awareness that this will become a memory.

Set a memorable mood with some lovely beats! A nostalgic "big band" radio station adds the right amount of whimsy. This music will have you looking at clouds and feeling like you're living in the end credit scene of a fantastic movie. Big Band Radio is easy listening and is agreeable to most people.
How to manage the transport of hot tea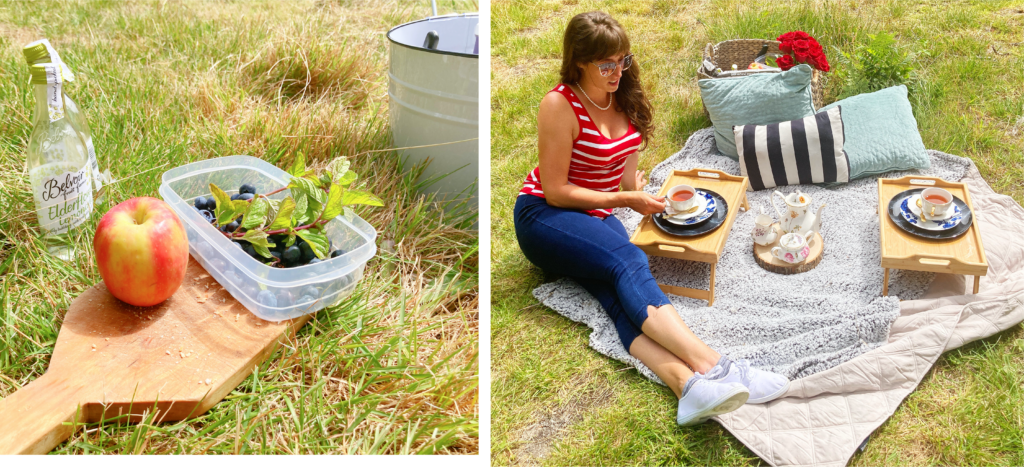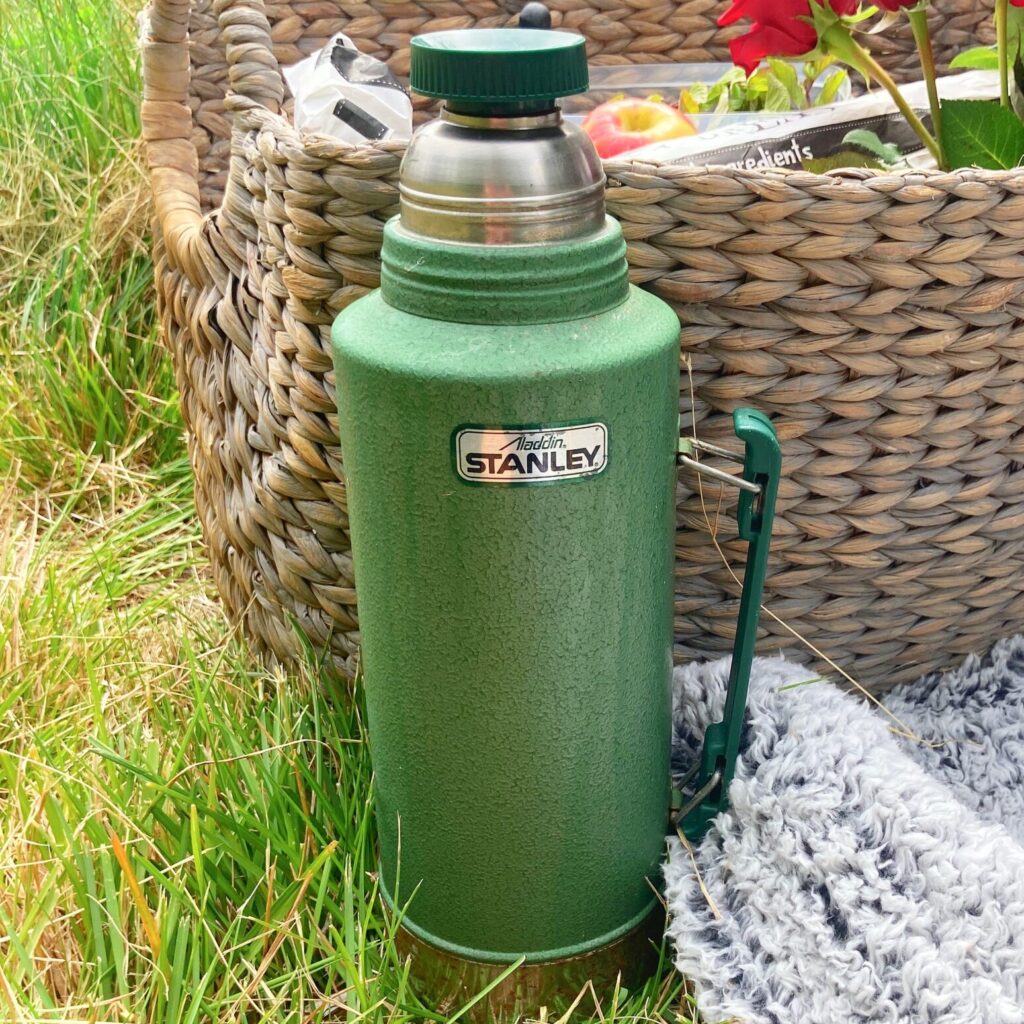 Surprisingly, not as hard as it sounds to transport hot tea. Pre-brew your tea and store it in a Stanley Thermos. Not only will it stay piping hot FOR HOURS but the insulated thermos is cool to the touch and has a nice handle. This item was the best addition to our tea party picnic! I wasn't expecting the tea to be as hot as it was after several hours, I accidentally burned myself opening it. I'm just the most graceful girl in all the land…
With many teas to pick from you can get creative by selecting a fancy blend or a full-bodied classic. Here are some of our picnic favorites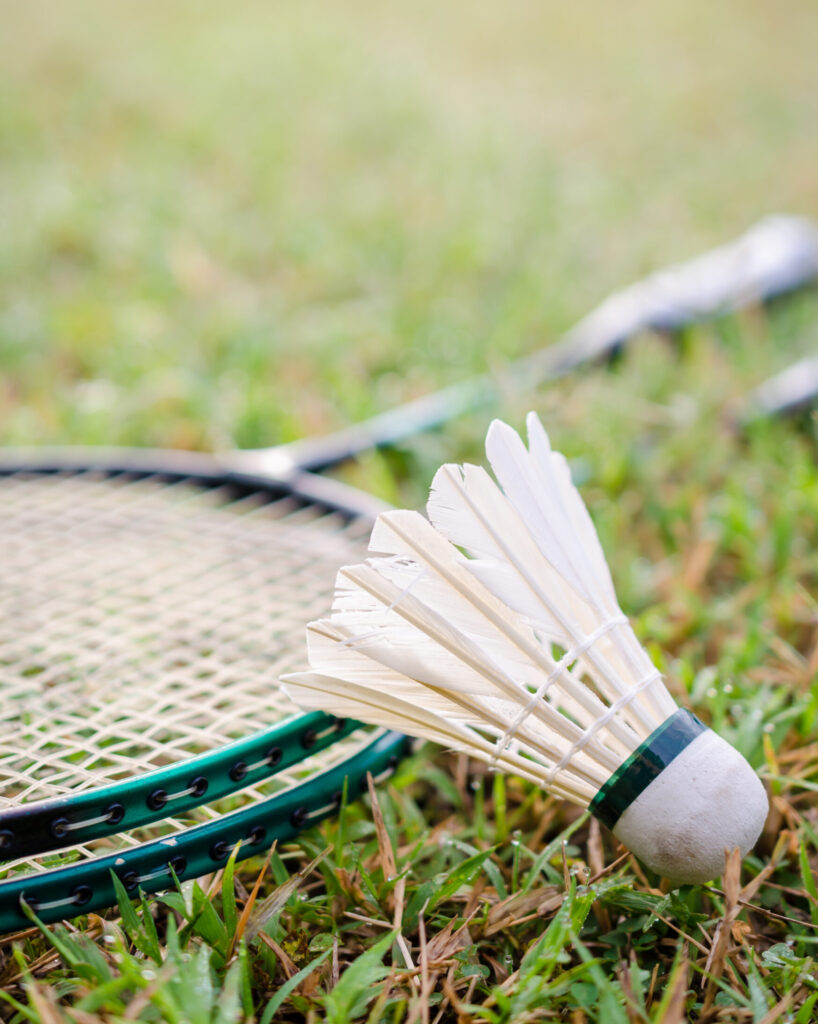 A tea party picnic is exciting but as the host, you're expected to provide some type of entertainment. That can come by way of stimulating conversations, poetry readings, or card games. People won't be able to lounge the entire time without it getting a bit boring.

Badminton is my favorite picnic game. It is hilarious to watch and even more fun to play. Compact and easily transported, this posh game (which can be played in teams) is low impact and the highlight of afternoon fun.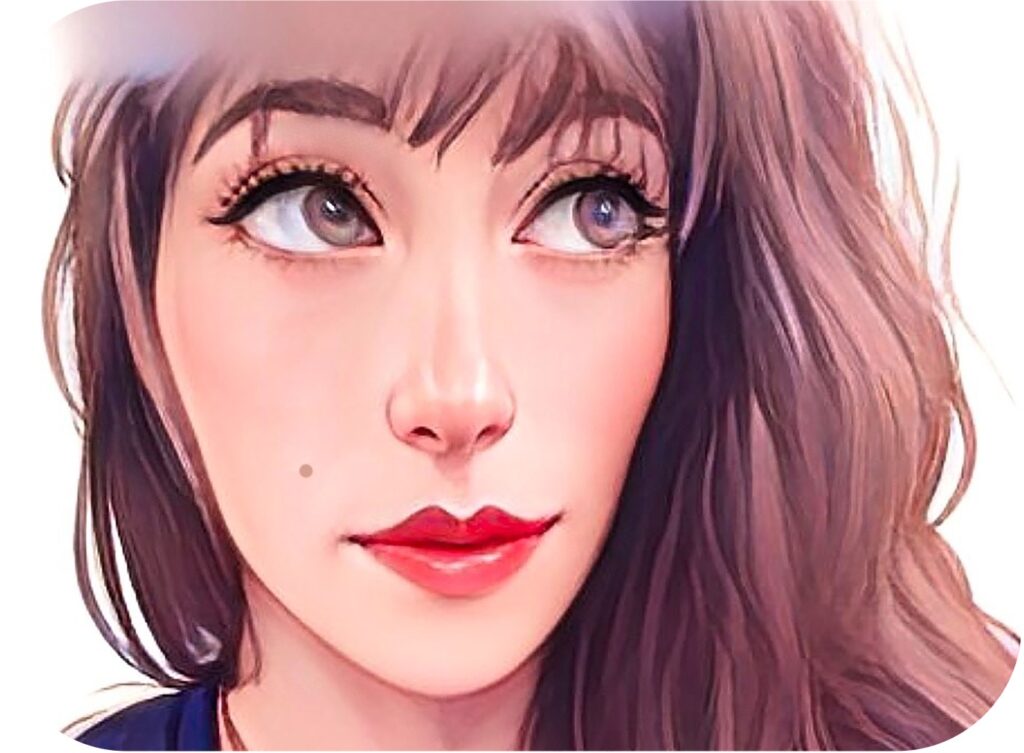 This post was written by Aria La Faye ( Artist, Florist, & Tea Specialist) to read more posts like this one check out our creative blog. If you'd like to write a guest post send us an email
Love this post? Please pin and share the image below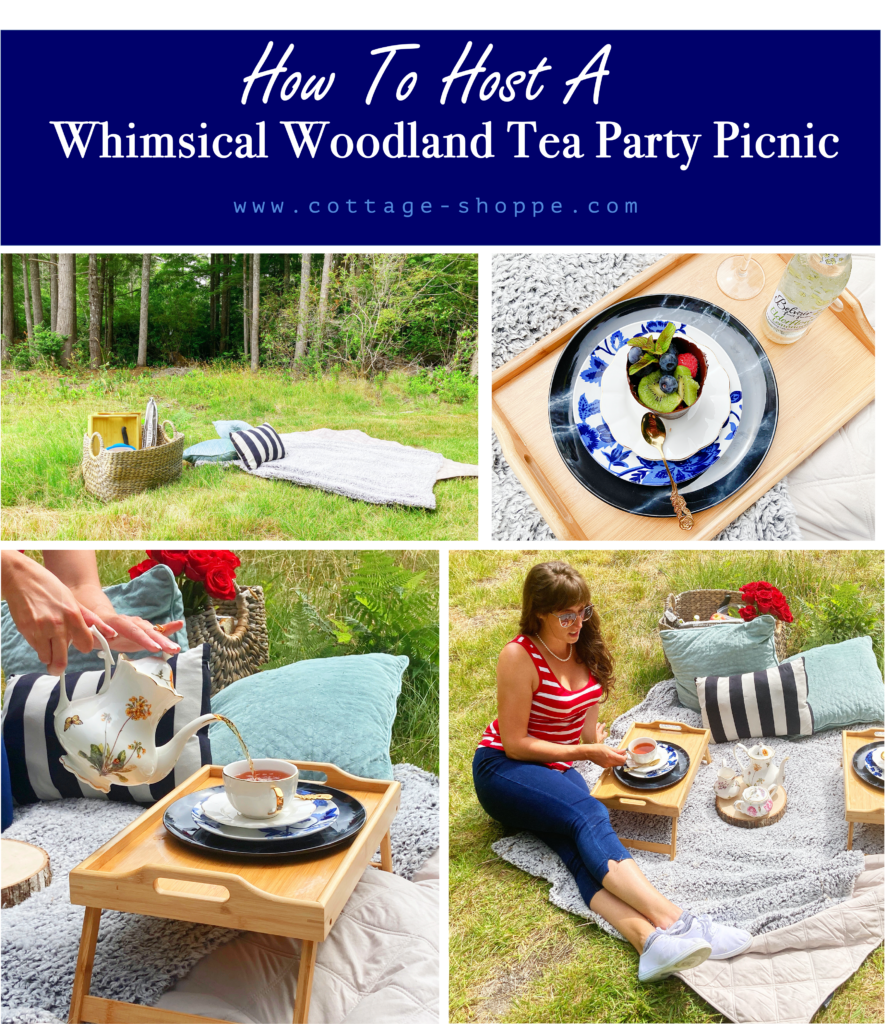 Subscribe for exclusive content and first looks at new posts