An essential guide to creating a stunning studio anywhere
Take charge of your "create-space" by designing a gorgeous and tempting studio that will have you eager to work. I've always been a little particular about my studio space, and over the years I have developed a taste for essential items.

Curating your own workspace is a necessity when (if done properly) will optimize your productivity and boost your creative thinking! It's important to designate a spot in your life for your studio, to help compartmentalize your work and make it easier to manage. This list will guide you through exactly how to style your studio to be both functional and beautiful.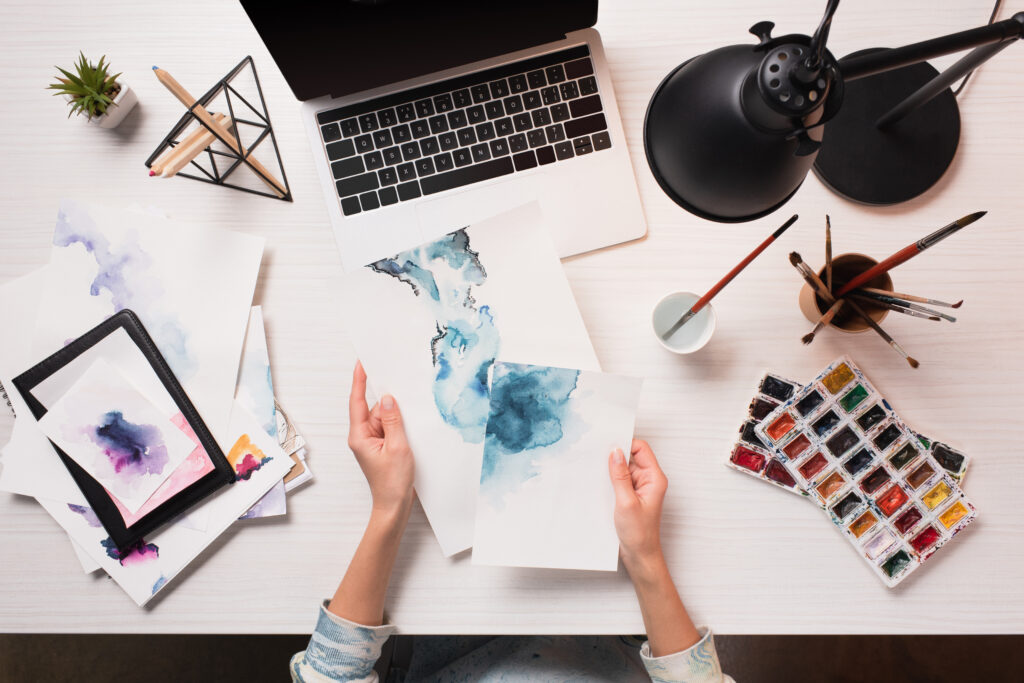 The BEST studio color
the problem with your average "bright whites" are that they have a nasty tendency to pick up any and all color surrounding it. This means that by using a bright white your studio's look will fluctuate dramatically depending on what's in it, and what type of flooring you have…Not good. I've set up studios in all types of locations, all around the world, and the wall color is always the first thing I "fix." Marshmallow by Behr is the champion of studio white. It is creamy and crisp with undertones of raw umber, maroon, and yellow.
The reason these hues work so well to produce a sparkling white is because certain colors are reflective while others absorbing. Yellow (though a bright color) is the type that absorbs other colors well. Raw umber (a chocolatey brown) is neutral, and maroon (dark red) is reflective. This combination of colors forms a balanced base for the bold white that stays warm without overpowering, absorbs surrounding color without picking it up, and is neutral enough that it bounces off the lighting in the room. I use flat for the walls and high-gloss for any window trim.
Lighting
Using the Kelvin scale as a guideline, it is generally recommended to select a bulb between 4,000 and 5,700K. This cooler bulb balances beautifully with the warm undertones of the Marshmallow white. After I've adjusted any existing lighting to the correct blubs I always use cordless puck lighting. These small (but powerful) spotlights can be placed anywhere without restriction successfully glaming up any area where wired lighting isn't available. The level of control you get from adding extra puck lights makes it easy to equalize the shadows in your space.
Bluetooth Speaker
Jumbo Corkboard
Paint Tube Display Board
Dryer
COMFY wheeled chair
Plants
Inspiring Quote
Space-Saving Storage
Final Touches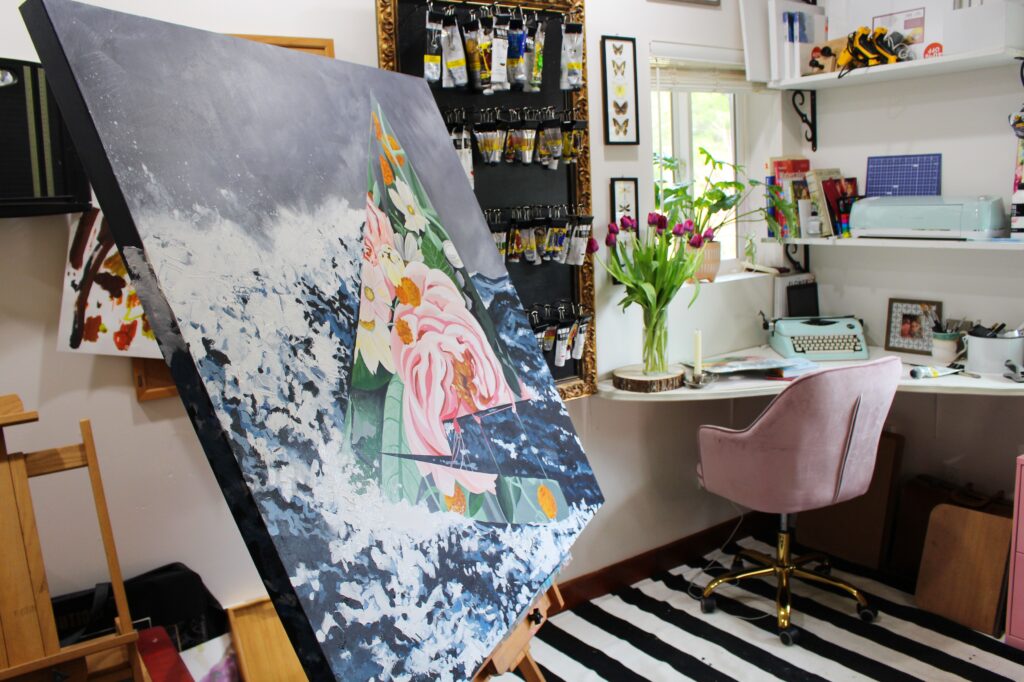 In the end, you should absolutely love where you work! You certainly love what you do, so this is a great opportunity to design a space that will operate as an extension of your own unique creativity.
What are your studio MUST HAVES?
love this post? Pin the image below and share it
Subscribe for exlusive content and first looks at new posts