A collection of fuss-free and affordable craft room organizational upgrades

Before you get started on your next artistic endeavor take some time to tidy up your area with some clever craft room solutions. Organization is key to making the most of your time. These simple upgrades are practical, easy, and add so much convenience.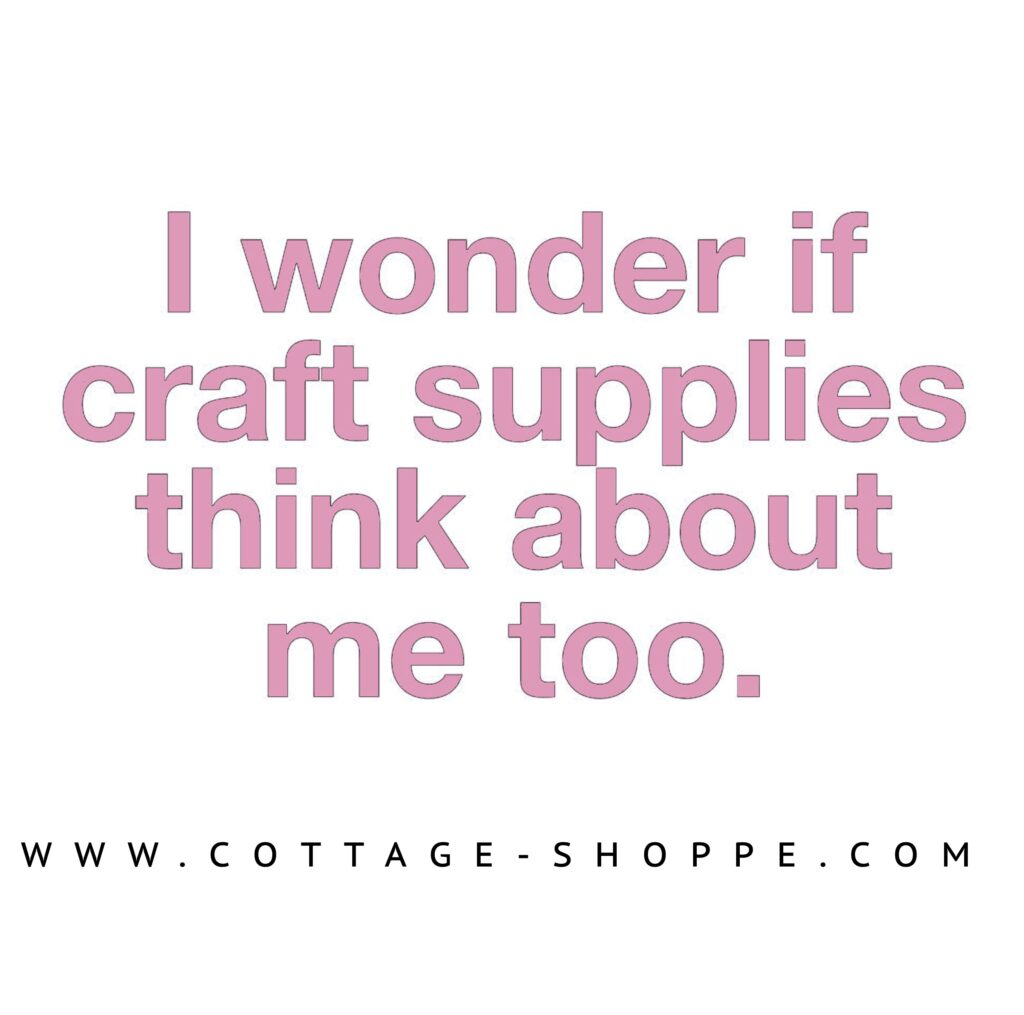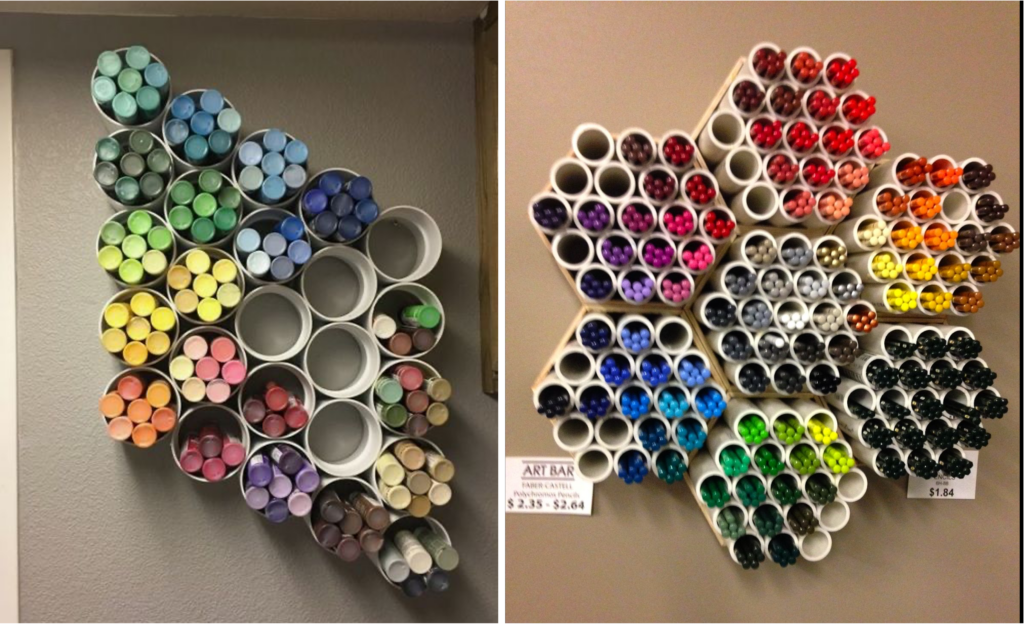 1.) PVC Pipes
While there are TONS of organization designs out there that use pipe as an alternative to traditional shelving, this set up is my favorite. What I like about it is the way one single pipe (when cut into pieces) goes so far. A bit of glue and you're good to go! With this design, you can create color families and essentially map out color schemes for projects.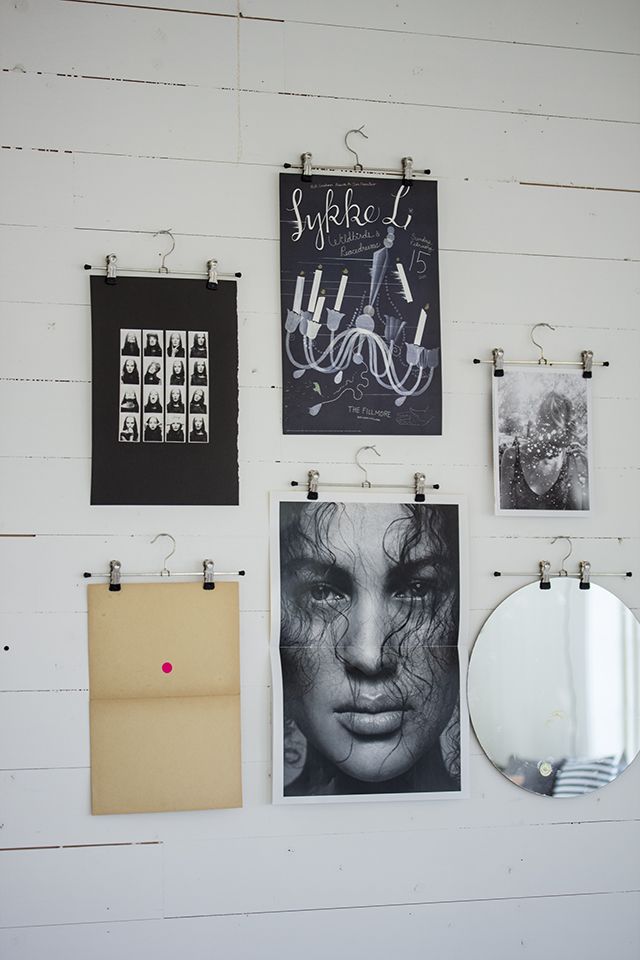 2.) Repurposed Clothes Hangers
Everyone has a few of these laying around and they make a great way to display artwork, cloth samples, and even use as a drying rack for finishing pieces. This is a clever way to utilize wall space and it allows you to switch out artwork easily.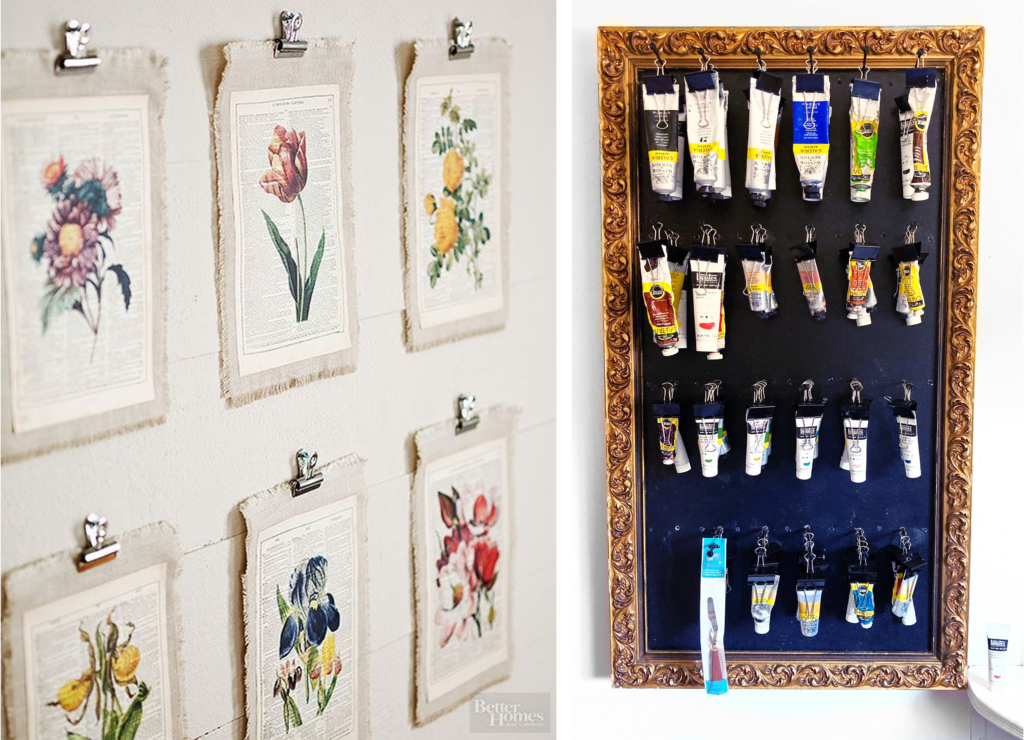 3.) Binder Clips
Probably my favorite multi-use item ever! Perfect grip for fabric, paper, or even as paint tube holders. These are super affordable and still look professional. If you have wall space these are an excellent way to take advantage of it.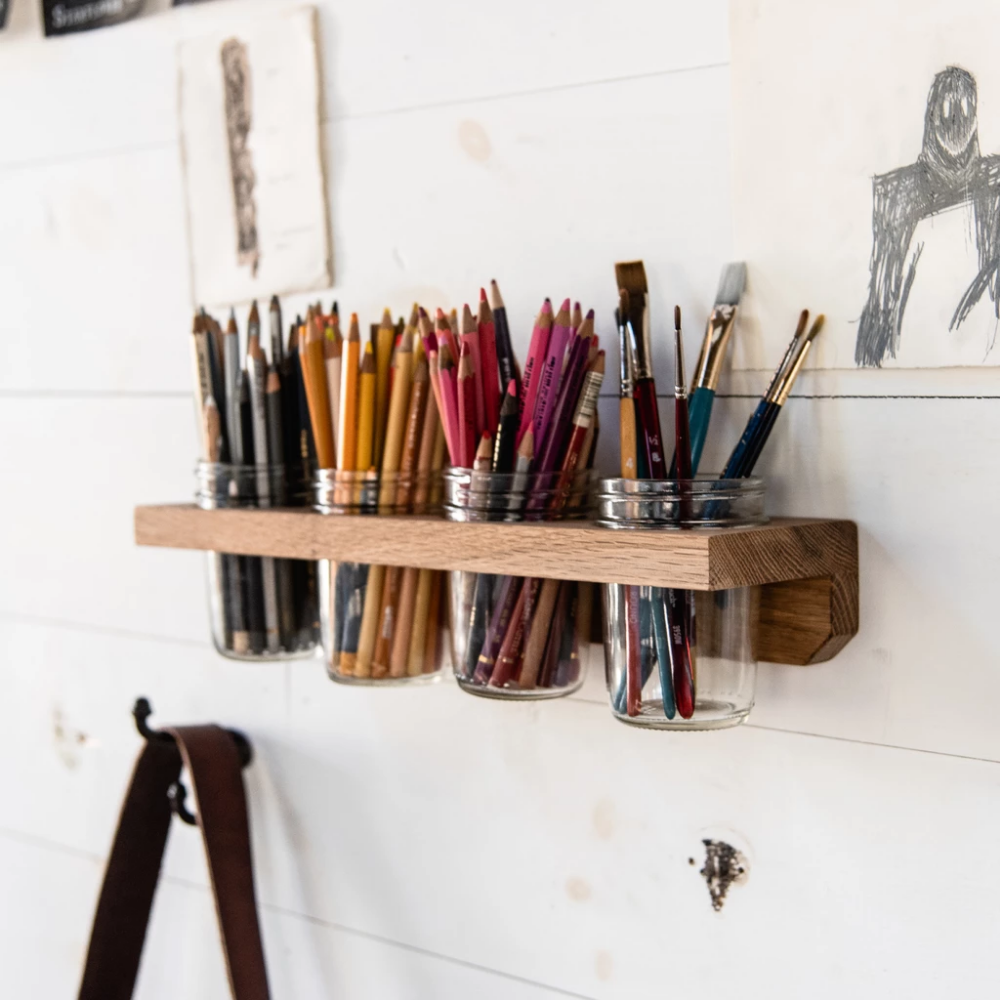 4.) Cup Holder Shelves
When it comes to containing items like pens, paintbrushes, or pencils it simply makes more sense to have them stored at eye level. Why take up valuable desk space? This fairly straightforward solution is great because it gives an airy look to an otherwise cluttered set up. I love that you end up spending less time rummaging and more time creating.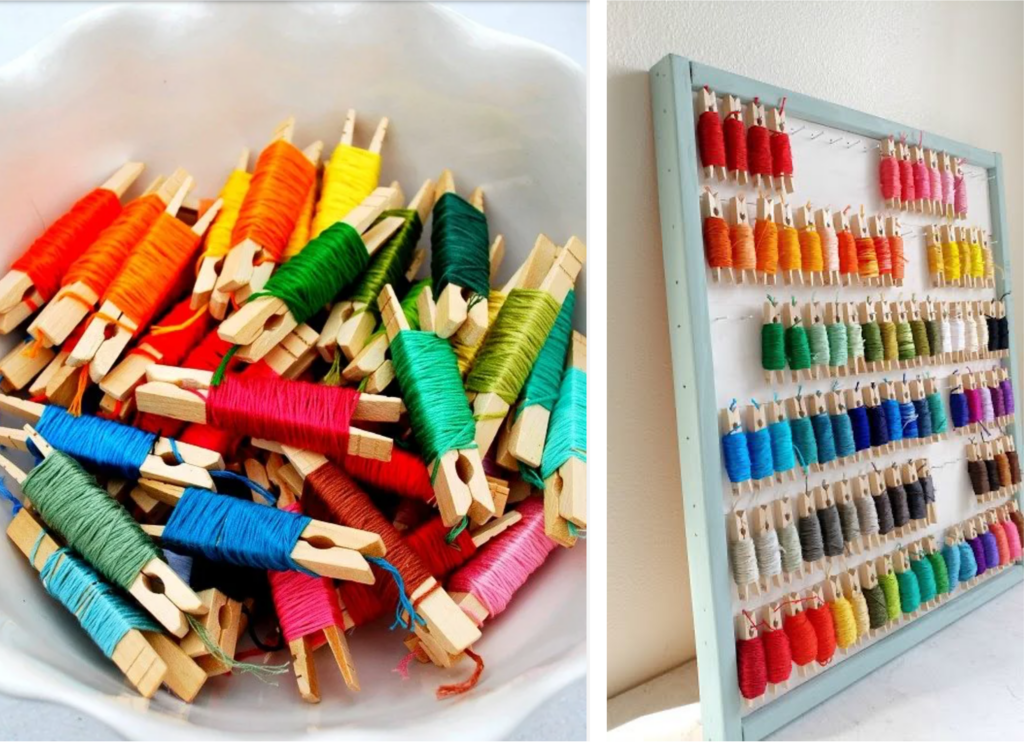 5.) Clothespins
Many household items are ideal solutions to organizational disaster zones. Clothespins make excellent organizers for threads, yarns, and strings. If you work in small spaces you can run a line across the room and use clothespins to store extra materials. There's no shortage of unique ways to use clothespins to make your life easier.

6.) Pegboards
An obvious one sure, but with all the different styles out there a peg board can be used in a wide variety of ways. Instead of an industrial pegboard, you can make a customized wooden dowel board that will hold everything from shelves to canvas boards. The wooden dowels add strength and versatility that broadens what you can hold. Best part is: you can arrange and rearrange as needed.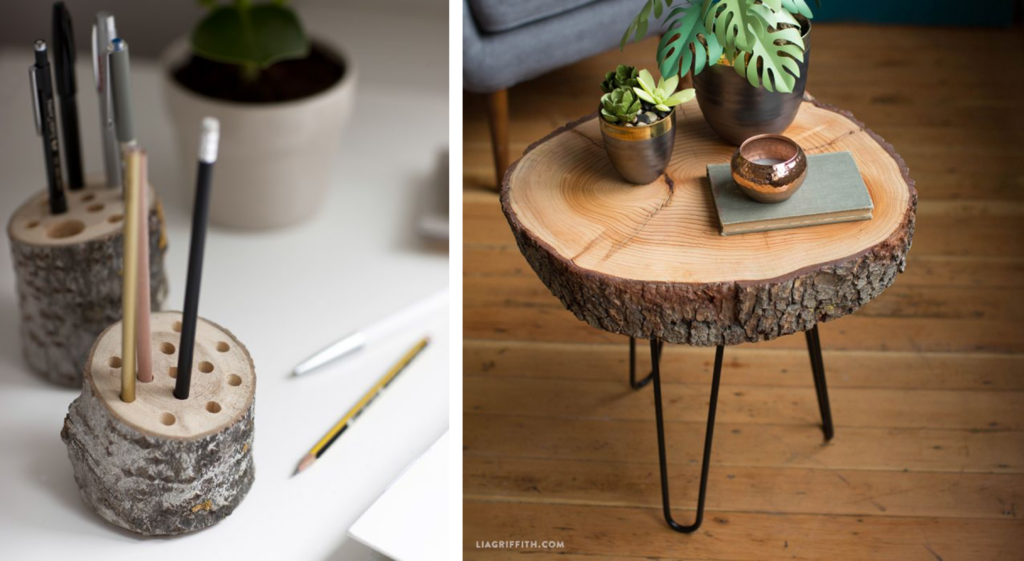 7.) Wood Slices
Rounds and slices of wood offer great design quality to your create space. This natural element keeps your artistic areas grounded. It makes for a very affordable minimal-effort upgrade. I was drawn to the side table as I never seem to have enough places to set things down in my own studio. Since a wood slice side table is easy to self-make you can control the height which is a major plus.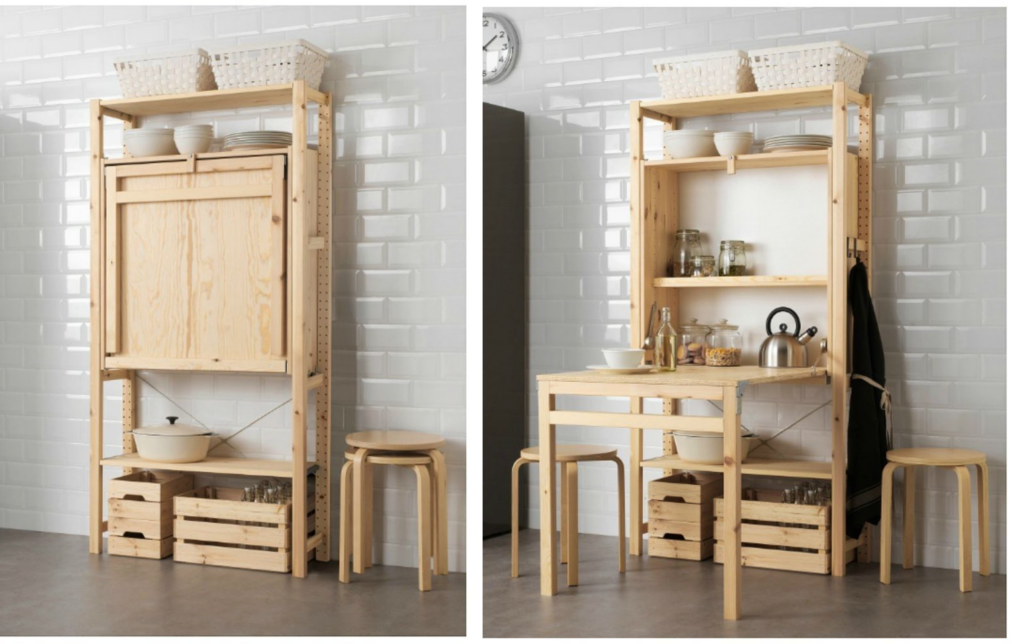 8.) Folding Tables
Any form of collapsable or folding tables are fantastic for making the most of your craft room. While the table pictured above was originally designed as a kitchen table for micro spaces, it looks like it would be an amazing sewing station or illustrator's nook. Complete your craft room by incorporating a smart folding table. You certainly won't regret the fuss-free addition.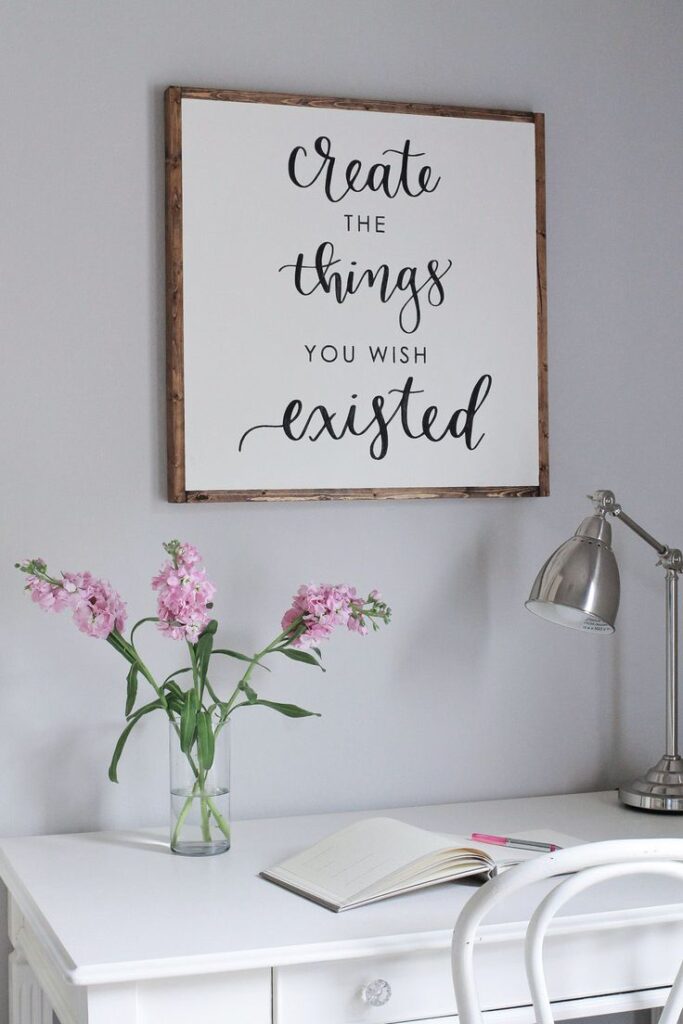 Creating limits is the cornerstone of organizing, this prevents small items from spreading all over. Make sure you have a trash can handy to keep your workspace clear of scraps. Group the little guys and eliminate extras, there's no need to have bulk stock adding chaos. If you can name it, label it. Lastly, file and don't stack. These little professional tips will help you have a high-functioning space that not only has efficiency but is easy to maintain as well.
What's your favorite craft room hack? Leave us a comment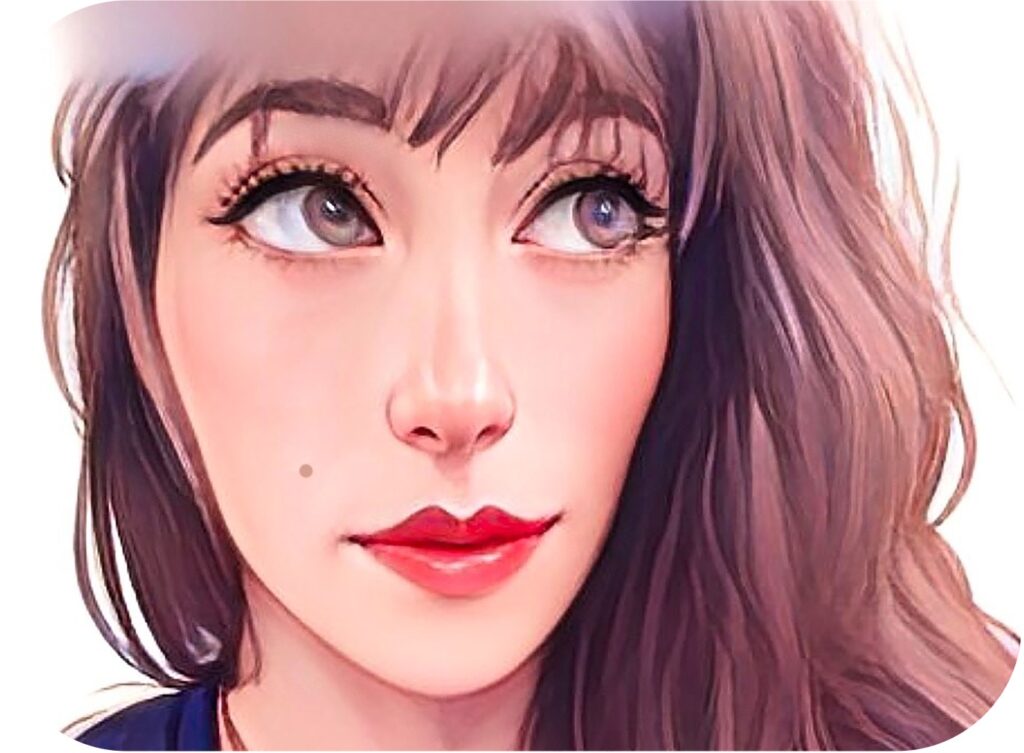 This post was written and curated by Aria La Faye ( Artist, Florist, & Tea Specialist) to read more posts like this one check out our creative blog. If you'd like to write a guest post send us an email
Love this post? Please pin the image below and share!